Travels & Milestones
I once read that "You should go everywhere when you are young just to see what's there.
Then go to the same places in middle age when you can understand what you are seeing.
And go again in your old age when you can appreciate those places."
---
1940s - Vacationed at Geneva on the Lake and later Conneaut Lake. Trips around PA
1951 - 1959 Camp Pine Springs: Novice camper to councilor.
1953 - Bought first Raytheon CK-722 Transistor for $7.50 - Later 2N107 & 2N170 See also.
Had a TV before my parents. GE fringe area set that could get Miami, FL and Carson City, NV
1954 - 1960 BSA Camp Seph Mack as camper with Blairsville Troop 4 .
1961 - Seph Mack staff was my first paid job - $75 for 6 weeks!:
Taught Pioneering, Map reading, Rowing, Canoeing.
1955 - 1961 Family vacationed in Canada - Belvedere Lodge north of Rosedale and Fenelon Falls.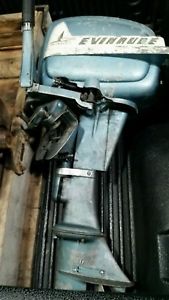 Spent many hours fishing with dad on Balsam Lake with second hand Evenrude.
1957 - National Boy Scout Jamboree in at Valley Forge via bus.
One week in Washington DC organized by Scout Master Dick Boon -
We saw everything including from the basement to the dome of the capital.
Eagle - God & Country
1959-60-61 Camp Michaux Westminster Fellowship Leadership Training Conferences.
1960 - National Boy Scout 50th Anniversary Jamboree in Colorado Springs.
My first train trip across America on old wicker seated rail cars and dinned on picnic tables in an old mail car
Great way to see the size and scope of this great land.
1961 - Graduated from Blairsville High School (Old Building)
Band - DJ - AV
Bausch & Lomb Honorary Science Award
National Forensics League Extemporaneous and Debate - Judge
1961-1965 Monmouth College - Major in The Physics worked as photographer and lab assistant.
Helped build WFS Radio Station. My history and pictures of the station.
First airplane rides in Ford Tri-motor which is still flying!
Flew home for Christmas on DC-3 and 707 after that the trip was made by train and bus.
Senior year I had a decrepit Ford Victoria with a 386 engine for student teaching.
1962 - Worked summer at Blairsville Machine Products
Running a 10 ton hydraulic broach and center-less grinder operator.
I made more than my parents combined.
1963 -
Traveled to Tel Ashdod Israel to work on a Pittsburgh Theological Seminary Archeological dig because I was short a religion credit at Monmouth College.

On the way home I drove a VW bug from Rome to Paris via Switzerland and Heidelberg Germany.
Learned how to shift gears going around the Coliseum during morning rush hour!

You only do this when you are young and foolish and don't understand what you are seeing! That why you have to go back in old age when you can appreciate the sites.
1965 - I was hired to teach Physics at Churchill High School sight unseen two days before school started.
Ford Victoria died so I bought 57 Chevy from my father - it died - bought very used VW Camper.
1966 - Did cinematography for summer film program at Churchill while taking Slide & Filmstrip Production
course at CMU. Decided that everything I liked about Physics was related to communications...
Built first Vidicon TV camera
Stage Manager and Forensics Coach
1967 - ...started Masters degree at Syracuse and lived in VW Camper and rode my 10 speed bicycle to classes.
Put almost 1000 miles touring the country side for 8 weeks.
Best SU Classes: Film, Photography, Statistics, Television Production & Programmed Instruction.
Built sage lighting system with experimental Silicon Controlled Rectifiers from Westinghouse Research.
1968 - Married Judy Maxwell : Honeymooned at Lake Wallenpaupack My Pictures on early Casio digital camera
We then went up to Syracuse and toured the Finger Lakes region on weekends.
That fall, I began shooting football games on film with Kodak Cini-100 & zoom lens from art 1966 art project.
1969 - First Road Trip with Judy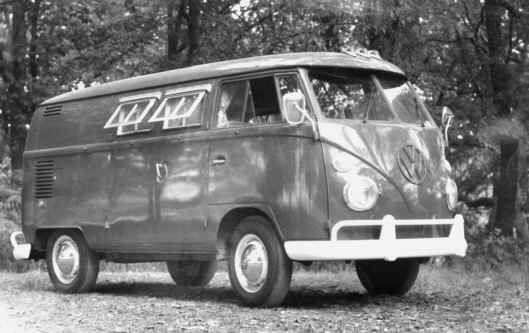 VW Camper (color it red but no hippy flower stickers) that we took to Yellowstone in 1969.
Broke down in Iowa so we had to stop and watch the Moon Landing at a state park.
If we had not been delayed, we would have been out of range of a TV station!
The engine exploded the day after we got home!
Places we have visited "Out West" on several trips.
Jackson Hole live Web camera. - All area cameras
1970 - My first Solar eclipse - March 7, 1970 at Virginia Beach
School district had leftover money used to purchase first Sony 3200 cameras, switcher and EIAJ recorders.
1972 - Our second Solar eclipse of July 10, 1972 - Prince Edwards Island - Visited Ann of Green Gables house.
1973 - Son Lee III born.
- Built switcher/special effects generator - First return access tests with Adelphia Cable.
1981 - Churchill School District ordered to merge to form Woodland Hills.
1983 - Won state grant for Radio Shack Color Computer system for teaching Physics.
I had to cross teacher's picket lines to get superintendent to sign the application.
1985 - Family tent camping trip to New England. Cold and 4" of rain on Cape Cod! Went to see Ghost Busters
1988 - Took Lee III on a camping trip out west following basically same route we did in 1969. By accident we saw
Frank Lloyd Wright's Taliesin studio. Judy flew to California and we met up in Denver.
Our Oldsmobile station wagon broke down in Des Moines and it took a week to get new computer.
1990 - England - Scotland - Wales - Ireland
Our Trip To England - Links to all the places we visited

1992 - Fellow of the Christa McAuliffe Institute National Foundation for the Improvement of Education
Institute was at Stanford University
Used the Internet for the first time . NEA could not get an Internet connection on campus - used phone MODEM to Chicago.
We went out a week early and stayed with friends at Livermore and toured San Francisco and the area.
1993 - Followed up for CMI with a week in Washington D.C. on "expense account."
My High-8mm documentary CMI video was shown as part of the program.
1996 - Successful back surgery for a herniated disk. Was up and walking the same day!
1998 - Retired from teaching but continued working on AV, computer and videography for school district.
Built their current TV studio which has hardly been used since.
1999 - November Road Trip to the Carolinas - Biltmore Estate

Garmin - GPS III
My first GPS was a great Christmas gift from my son.
2000 - First Retirement Road Trip in October to NE Pennsylvania to See the Leaves
August Road Trip to Illinois
Williamsburg - Our first "retirement" adventure - nice to be there with no kids to chaperone!
2000/1 WHHS Band Trip to Peach Bowl in Atlanta - Clocks on video monitors displayed 1900 at midnight!
2001 - Our Hot Air Balloon Ride with Keiko! August 14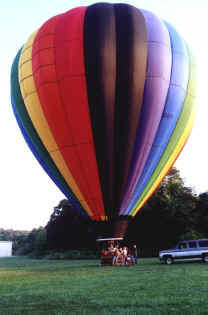 2002 -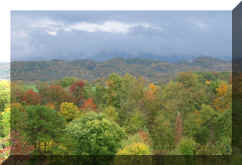 Visit to The Log House on Pine Ridge
Our friends moved to Pigeon Forge,TN. We Stayed at Eagles Ridge Resort but visited
The Calico Inn the #1 Bed & Breakfast in the country and the Great Smoky Mountains National Park,
Dollywood® - The Entertainment Capital of the Smokey Mountains
Kentucky Mountain Bible College where Judy's relative teaches.
2002-2003 -Chemotherapy at Hillman Cancer Center.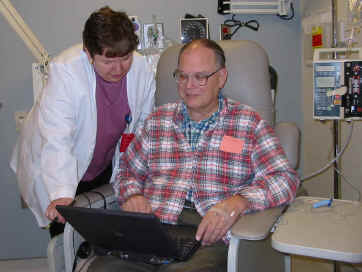 18 weekly chemotherapy treatments as a follow up to my "colon tuck" at UPMC.
Not as much fun as my successful back surgery for a herniated disk in 1996.
In good hands! Graphic Description!
Colonoscopy exam! If your over 50, have it done! Last one in October 2018

Watching Lord of the Rings DVD on my old Dell laptop.
2003 - Rhine River Cruise - Europe! Great Time! First all Digital Video and Photography on this Trip.
Switzerland - Germany - Holland - Belgium - France
2004 - Niagara-on-the-Lake - Winter vacation 2004 at Center House B&B
Who else goes to Canada in January!


My picture of the falls.
2004 - Tour of the Canadian Rockies
Train from Vancouver to Jasper, bus to Lake Louise, Bamff and Calgory.
2005 - Granddaughter Renee Born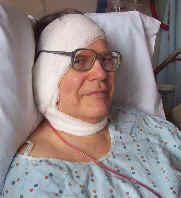 Surgery to remove Benign Facial Tumor at UPMC Montefiore
Jefferson National Expansion Memorial - St. Louis Gateway Arch (Built in Pittsburgh.)
Saint Louis Zoo - Home page St. Louis Science Center
On our way to Monmouth College for WFS / Alumni Reunion Weekend June 9-12
My History of WFS - Monmouth College Radio Station.
Bus trip to Machinac Island - Grand Hotel - stayed at The Island House Hotel - Island Camera
First Video Editing Computer from - Computer Connections 2005 - Died 2015!
2005/6 Grand Canyon and the Fiesta Bowl as videographer for the WHHS Band - New Years
2006 - "Appreciation Tour" of the Western Parks
4000 miles by bus from Las Vegas to Little Big Horn and back via Denver.
2007 - Granddaughter Emily Born
2008 - Seattle via Amtrak! - Our first rail trip around the country.
Chicago - Denver - Sacramento - Seattle - Chicago.
B&B at Cicely - Roslyn, WA, the home of Northern Exposure
Rain delay and flooding in Wisconsin got us a free hotel and an extra day in Chicago


2008 - Dallas, TX via Band Bus - 2460 miles to do video of WHHS playing North West H.S. at Texas Stadium!
2009 - Branson, MO - Sat through time-share sales pitch to get a three day free motel stay and show tickets.
- We saw Peter Pan, Titanic Museum and historic The Shepherd of the Hills Outdoor Drama.
2010 - Tucson - via Amtrak Cold and raining when we arrived! Three weeks in the sun (some of the time.)
2012 - Colorado by Train - Bus trip around state to ride on historic steam trains.
2014 - 7 Day Royal Caribbean Cruise on "Grandeur of the Seas" from Baltimore to Nassau

Baltimore-based cruise departs despite viral outbreak - Judy caught it!
2015 - Drove to "The Villages" in Florida & over-nighted at Canaveral's Jetty Park camp ground.
Missed a SpaceX rocket launch to get home in time for WHHS spring musical!
Visited Outer Banks, Kitty Hawk, Wright Brothers National Memorial & Cape Hatteras Lighthouse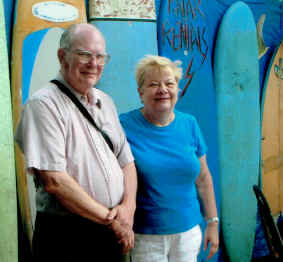 Oinc's Barbeque - Ocracoke, NC
2015 - We drove to Monmouth, IL for 50th class reunion and then followed the
Mississippi River north to Itasca State Park where we stayed overnight in the historic lodge.
Minnesota's oldest state park at the Headwaters of the Mississippi.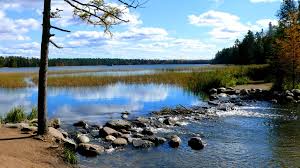 Headwaters of the Mississippi
Headwaters Webcam
2016 - Glacier National Park via Amtrak roomette with two day stay in Chicago
We stayed at the historic Park Lodge. The train was delayed by high winds so Amtrak gave us
another night's stay at a hotel in Chicago.

Going to the Sun Road at Glacier.
2017 - Third Solar Eclipse Aug. 21 to see The Great American Eclipse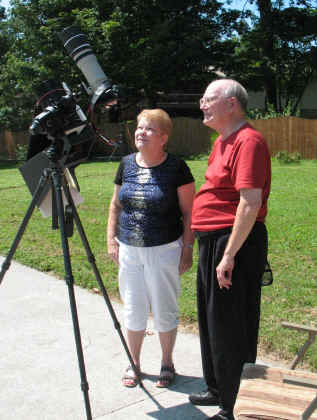 Viewing my third total Eclipse at Maryville, TN
Previously: Virginia Beach - 1970 Prince Edward Island 1972

---
2018 ALASKA
27 Day Trip to Celebrate 50th Anniversary
We picked the destinations and our friend Travel by Joyce made all the reservations.
Car - Lee took use to the airport hotel so we would not have to panic in the morning.
Plane - UAL Pittsburgh to Chicago. Our next plane was delayed 2 hours while they changed a tire.
Plane - Chicago to Anchorage I upgraded us to 1st CLASS! Three night motel stay.
Trolley- Anchorage Trolley Tours "The Bridge" Restaurant - Met Chad Carpenter
Train - Alaska Railroad to Fairbanks for 4 nights
Bus - Local bus through city to see the University of Alaska Museum of the North
Boat - River Boat was first part of cruise package.
Bus - To Denali for two nights The bus broke down on the way!
Bus - Denali Park where we were one of the few to see "The Big One" Bus Driver/Tour guide.
Train - Stayed in the cruse hotel in Anchorage and had an evening on the town.
Bus - From the hotel to the historic Railway Station to catch the early morning...
Train - Through the mountains to Seward to board the cruise ship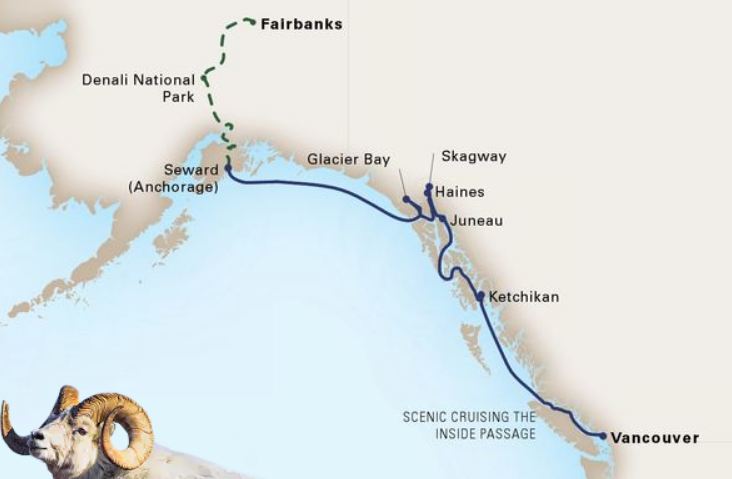 Ship - Holland America Cruise Ship Westerdam from Seward to Glacier Bay
Ferry - Fast Ferry from Haines to Skagway
Train - Historic White Pass Railroad at Skagway. Rain & fog gave it Alaskan ambiance.
Walked the streets of Juneau and toured the capital.
The stop in Katchikan was unusually warm and Sunny.
Cruse ended in Vancouver where we stayed for two nights to do laundry.
Cab - From Canada Place to motel on south side of town.
Bus - Toured the city: Gas Town / China Town / Science Center
Rail - Driverless Light Rail back from huge Metrotown Mall
Train - Amtrak Cascades at 5:30 AM from Vancouver to Portland for two nights.
Cab - Portland cab driver from hell could not find our hotel with GPS and we had to walk 3 blocks up steep steps.
Visited Wells Fargo Museum, Powell's Books and walked a lot.




Train - Amtrak Empire Builder from Portland to Spokane via the Columbia River Gorge at Sun set.
Then across the country to Chicago with only 10 minutes to catch...
Train - ...Amtrak Capital Limited from Chicago to Pittsburgh
2600 Miles at average of 50 mph . Great way to see the country.
Car - Son picked us up at the station early Sunday morning
Long range trips in the works:
2024 - Fourth Solar Eclipse - Monday April 8, West of Columbus, OH - Right in our own back yard!
---
Odds & Ends
"Noah" Sight & Sound® offers inspirational live stage productions in Lancaster County
Steamtown - National Historic Site - Scranton, PA


Camp Michaux - My tribute to a forgotten place
One of My Favorite Places - Jacksons Falls near Apollo, PA New book features the falls!
Lake Wallenpaupack - My Pictures - Live Web Cam
Ford Museum & Greenfield Village
Have you been to Kennywood yet?
Bedford Village - Covered Bridges in Bedford County
2001 Christmas Letter - With links to more information.
2012 Christmas Letter