Christmas Greetings to One and All From the Schaeffers.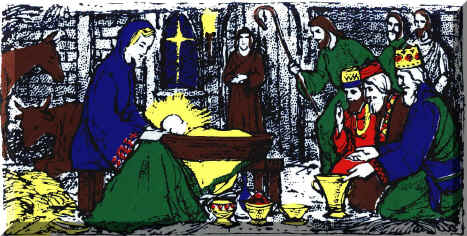 One of Our Classic Silk Screen Card From Christmas Past
Some day we hope to have the time and space to revive this tradition.
As we think of our friends this Christmas season we hope you are in good health and have had a wonderful year 2000 with few Y2K problems. We are reasonably well and are busy enough that the days and the years pass quickly. Neither one of is working full time now so we had more time to travel.
| | |
| --- | --- |
| | In June we assisted friends in their move to Tennessee, which enabled us to see the Smoky Mountains. We are anticipating more visits to Pigeon Forge to visit them in their new log house. |
| | |
| --- | --- |
| We spent a week in July visiting with Judy's sister and brother at his new home at Spinnler Point on Lake Wallenpaupack in the Pocono Mountains. The family then celebrated a Golden Anniversary with her sister Betty and Jerry. | |
Our Illinois Trip in August found us traveling to Ohio and Illinois. It was mostly a genealogical trip. Our main purpose was to meet Judy's second cousins, the Lorimers. He preached at the North Henderson Church where their great grandfather Samuel Wallace had been a minister. We also visited the churches in the area where her grandfather and great-great grandfather had ministered.

Several of Monmouth College's founders were also Judy's ancestors so we did some research at the Monmouth Court House. We stopped by the college to see then many changes since our days there as shown in this panoramic picture. In the Chicago area, we also stayed with our friends from college and toured the Chicago Zoo, The Museum of Broadcast and the Field Museum.
Our Fall Foliage Tour
The fall leaves were typically spectacular in Pennsylvania this year so we took off for a few days and went north to Oil Creek State Park and Titusville where we slept in a caboose motel
Allegheny River at Kinsua Dam - 28mm Lens


Then we followed the Allegheny River up to the Kinsua Dam. We came home through the Allegheny National Forest and hiked in Cook Forest.
| | |
| --- | --- |
| I dug a deep hole in the back yard this summer all and installed the school's old satellite dish. It was unique to watch the Olympics from all the time zones and on the Canadian channels, the NASA space missions plus late breaking news from around the world. | (This picture has been electronically altered!) |
| | I upgraded to a Canon QL1 MiniDV video camera for my videography work and am now learning computer video editing on a new computer. I'm still the Web master for Beulah Church, Woodland Hills Schools and the Television and Video Teachers. (simply because no one else wants the job!) The National Museum of Broadcasting project with a former student has been an interesting exercise in preserving the history of radio and television. |
| Beulah also keeps me busy exorcising the hum out of the wireless microphones the local radio stations out of the church PA sound system. | |
| | |
| --- | --- |
| Judy retired in June thus giving her more time for her genealogy research, needlework and reading. Her latest project is a cross-stitch scene of a British cottage and gardens. This is a great reminder of our trip to the British Isles. She is an active member of the Pittsburgh Alumnae Chapter of Alpha Xi Delta and is on the Comfort in Grief Committee at Beulah Church. | |

The Lees duplicating and critiquing the game tapes.

Son, Lee still lives near us in his own apartment but he is near enough that we get to see him often. He keeps on the edge of the information revolution as the web master for Cornerstone Television but still finds time to help video tape the high school football games.

We always consider it good fortune when our friends stop in to visit. So, if you are in the Pittsburgh area, please do call. Lee gives a nice tour of the city!

Now that you have seen all our adventures on the family web page, take a moment and
E-mail us to let us know!


Judy's Christmas Craft Project 1999