Beulah Memorial Cemetery
Web Page by Lee Schaeffer

Cemetery Tour map with pictures of markers
Burial ground for thirty Revolutionary War soldiers
Listing with Pictures and Text of Markers
Complete List of Beulah Tombstone Inscriptions
Civil War Veterans Tombstones Allegheny County
The Sampson Family and Beulah in 1886
The History of Beulah Church
Contact our Archives Committee for more information
A Tour Map of Beulah Memorial Cemetery
Left side is boundary of old and newer sections of cemetery not the road. Not to exact scale.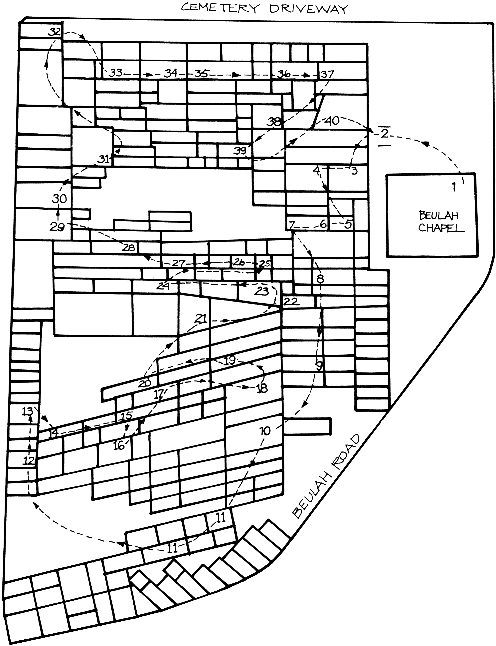 Complete Tour Map With Known Plot Names
1. The Chapel
Built in 1837 from bricks made on the site, the small church now know as the Beulah Chapel once served a pioneer congregation. The adjoining graveyard is the last resting place for many pioneer settlers, among them more than 30 solders who saw service in the Revolutionary War era.
2 The Gates
The entrance to a trip back into over 200 years of the history of the area.
3 Carothers
Visitors cannot fail to notice on the left of the gates to the graveyard a tall monument separated from its neighbors by an ornate iron fence marking the graves of James Carothers, M.D., and his wife Matilda Graham Carothers, daughter of Rev. James Graham.
4 Taylor
Near the Carothers' graves is the grave of Samuel Taylor, a Revolutionary War soldier serving in the 2nd Reg. Pa. Volunteers.
5 Park
Near the Taylor graves is the graves is the grave of William Park, a Revolutionary War soldier with Capt. Kidd's Co., Washington County Militia who came from Cookstown, Ireland.
6 McDowell
Dr. John McDowell was a Revolutionary War soldier who served as a Captain with the 7th Continental Regiment, Carlisle. In the same lot containing the single grave of Dr. John McDowell are the graves of Margaret W. Hastings and Martha McDowell Hastings, wives of Rev. John Hastings, Minister of Beulah from 1846 to 1866. Near these graves is a small stone for Emma E. Hunter, age 2, small daughter of Rev. James W. Hunter, Minister of Beulah from 1874 to 1877.
7 Graham
Rev. James Graham, second minister of Beulah from 1804 to 1845, when he was thrown from his horse while returning home and died the next day. Near him are buried Elizabeth Martin Graham who became his bride in 1804 after he had accepted a call to become minister of the church, Rachel Glen Graham whom he married after the death of Elizabeth and Martha McCullough Graham, his third wife who survived him.
In the same plot are his son James and daughter-in-law, Eliza MacFarlane Graham. Also in the same plot is the grave of Miss Martha Graham, granddaughter of Rev. Graham. To her we owe the only record of burials compiled for Beulah Graveyard in 1918.
8 Kelly
Kelly is an important name in Wilkinsburg history. James Kelly Sr. bought property and eventually owned thousands of acres. However, he had borrowed heavily against his landholdings, and when the banks called their loans he lost everything and died a poor man.
9 Linhart
Below the Kelly graves is a tall monument inscribed with the name James B. Linhart. The Linharts were among the earliest settlers, and a log house once occupied by members of this family still stands in Wilkins Township.
10 Speer
James Speer was a Revolutionary War soldier who served with Capt. Orbison's Co. New York Militia. Near this grave is the plot of the Latham family. James C. Latham, M.D.
11 Harrison
The fourth generation of the Harrison family remain members of Beulah, and children in the fifth generation have been baptized in the church.
12 Edwards
Asa Edwards died May 22, 1860. Inscription, "An Honest Man." The stone was erected by his friend, Col. William Miller. All we know of him is that he was an honest man.
13 Jamison
William Lloyd Jamison drove a team for the Commissary during the Civil War "because he was too old to be a soldier."
14 Hughey
John Hughey was a Revolutionary War soldier and was born in Lancaster County, Pennsylvania. He served in the Northampton County Militia.
15 Milligan
James Milligan was a Revolutionary War soldier. His wife Ann is buried in the same grave.
16 Green
Patrick Green was a Revolutionary War soldier.
17 McMasters
Capt. John McMasters was one of the first Revolutionary War soldiers buried in the cemetery.
18 McCrea
William McCrea Jr. was born in 1785 at Dundee Farm, the present site of the Westinghouse Research Laboratories.
19 Cole
John Cole was a Revolutionary War soldier and served in the 4th Battalion of Capt. Wilkenson's Co. Philadelphia Militia.
20 McCullough
John McCullough was a Revolutionary War soldier and served in Capt. Hood's Co. Westrnoreland County Militia.
21 Little
David Little was a contractor, builder and cabinet-maker and made many of the coffins used in the early burials in the cemetery. He was also a partner with John Robinson in a grocery store and meat market in Wilkinsburg. Early in 1800 he was hired to build a paling fence around Beulah Graveyard.
22 Long
Matthew Long was a Revolutionary War soldier and was honored for his bravery.
23 Poyntz
Nathaniel Poyntz was a Revolutionary War soldier and served in the same Battalion as Mr. John McDowell.
24 Homer
James Homer was a Revolutionary War soldier who served in the Northampton County Militia. Next to the grave of Mrs. Mary Homer is the grave of her slave, Roseann Rattler, marked by a small stone containing the inscription "Thou wert a good and faithful Rose . . . God is no respecter of color." Also in the Homer plot is the grave of Col. Dunning McNair, known as the founder of Wilkinsburg.
25 Bonner
Charles Bonner was a soldier of the Revolution.
The grave of the son James Bonner, age 8 who died in 1793, is the oldest marked grave in the cemetery. Near the grave of Charles Bonner is the grave of his granddaughter, Nancy Henderson Duff, and David Duff, her husband.
26 Perchment
Capt. Peter Perchment served with the Virginia Troops 13th Virginia Regiment Continental Army in the Revolutionary War.
27 Johnston
General John Johnston was a Revolutionary War soldier who served in the Allegheny County Militia.
His mother, Jane Johnston, buried in the same plot, lived to be 106 years old. The tall monuments list the above names plus all the children of John and Mary Johnston, many of whom are buried in other sections of the cemetery.
28 Wilson
Thomas Wilson, a soldier of the Revolution and honored as the first settler in Penn Township, now Penn Hills.
29 Morrow
Henry Morrow, 1760-1841, was a Revolutionary War soldier who served in Capt. Walter McKinney 8th Co. 4th Battalion of Cumberland County.
30 Smith
William Smith, died 1901. In October 1982 this headstone was found deeply embedded in a tree trunk that had grown up beside it by volunteer workers who were repairing headstones.
31 McGregor
Hand-cut fieldstone marker: A.D. 1841 5. Mc. This stone was found almost completely buried in the ground in 1982 and is probably a member of the McGregor family.
32 Dunning
Smith G. and Agnes P. Dunning, Minister of Beulah from 1929 to 1943.
33 McFee
John, Elizabeth and Rebecca McFee lived at Penn Avenue and Center Street in Wilkinsburg with the father.
34 Turner
Mary Quigley Turner, wife of Adam Turner, who was a school teacher in McNairstown, now Wilkinsburg.
35 Marshall
Elizabeth Collins Marshall was the wife of Rev. James Marshall, Minister of Beulah from 1867 to 1873, the first Minister to occupy the Parsonage.
36 Dietrich
Mary Margaret Dietrich. This is the only headstone in the cemetery which faces north. All others face east and west.
37 Osborne
Rev. Joseph Osborne was the Minister of Turtle Creek Church and died October 31, 1851, at the age of 38.
38 Montgomery
Nathaniel Montgomery seems to be a favorite name of this family as there are Nathaniels 1st, 2nd, 3rd and 4th. Two Nathaniel Montgomerys were elders in Beulah Church. This is one of the plots in which a mother and her infant (Mary, wife of Nathaniel IV) were buried in the same grave.
39 Iron Tombstones
These are the only two iron markers in the cemetery and mark the graves of William Gore, M.D., and Jane Chalfant. They appear to be members of a Chalfant family, possibly related in some manner to the family which occupies a large plot near the Gates.
40 Chalfiant
A family who played a great part in the early history of the church was the Henry Chalfant family. The last member of this family to be buried in the cemetery was Evaline MacFarlane Chalfant who died December 17, 1976. Her grave was reserved for her many years ago and may be the last burial in the old section.

Revolutionary War Soldiers buried in Beulah Cemetery
Listing with Pictures and Text of Markers
| | | | | | | |
| --- | --- | --- | --- | --- | --- | --- |
| Name | Dates | Plot | | Name | Dates | Plot |
| James Beatty | 1744-1827 | | | Dr. John McDowell | 1751-1814 | |
| Captain Charles Bonner | 1744-1833 | | | William McElroy | 1736-1820 | |
| John Cole | 1739-1807 | | | James McKelvey | 1756-1838 | |
| Col. Robert Cunningham | 1759-1822 | | | Captain John McMasters | 1751-1805 | |
| David Gilleland | 1765-1851 | | | James Milligan | 1726-1814 | |
| Patrick Green | 1764-1830 | | | Henry Morrow | 1760-1841 | |
| James Homer | 1758-1824 | | | William Park | 1762-1846 | |
| John Hughey | 1752-1837 | | | Captain Peter Perchment | 1749-1844 | |
| Charles Johnston | 1757-1828 | | | William Powell | -1830 | |
| General John Johnston | 1747-1810 | | | Captain Nathaniel Poyntz | 1756-1819 | |
| John Johnston | 1759-1856 | | | Samuel Allen Rippey | 1757-1812 | |
| John Kelly | 1759-1814 | | | | 1755- 1833 | 42 |
| Matthew Long | 1753-1838 | | | James Speer | 1756-1814 | |
| William McCrea | 1760-1828 | | | Colonel William Stewart | 1736-1786 | |
| John McCullough | 1752-1825 | | | Samuel Taylor | | |
| Dr. John McDowell | 1751-1814 | | | Samuel Uerr | 1761-1851 | |
| William McElroy | 1736-1820 | | | Captain Peter Whiteside | | |
| John McCullough | 1752-1825 | | | Thomas Wilson | 1741-1825 | |
| Duff, John | 1756 -1823 | | | | | |
Plot numbers are listed on the Complete Tour Map

Beulah Presbyterian Church, 1784-1984 : a Christian Heritage
Chapter One
by Lenore W. Bayus - Order Book

Beulah Presbyterian Church