Personal History Video Slide Shows
Anniversaries - Weddings - Graduations - Birthdays - Christmas


| | |
| --- | --- |
| Computer technology brings new life to your old and faded family pictures. Unlike previous video transfer methods, the computer allows custom correction for each picture. Old color pictures and slides are rejuvenated to their original colors. The final video slide show combines the pictures with your favorite musical selections. Multiple video tapes and Computer CD's allows others to share your family's pictures. The Computer CD allows pictures to be viewed or printed on most Windows based multimedia PC computers and provides state-of-the-art archival storage from 30 to 100 years. | |
A demonstration video tape is available on request.

The advantages of a computerized slide show over camera-to-tape productions.
All tapes are originals, not duplicates of the first tape.
Vertical Format portraits masked or put in picture frames.
Consistent look to all pictures
Hi-Fi quality sound track.
Pictures and music stored on computer CD disks.
Titles and dates added to pictures or title slides.
Interesting transitions between pictures adds variety to the show.
Show repeated to fill 2 hour video tape for unattended showing.
Each picture individually adjusted:

Brightness
Contrast
Sharpness
Color Level
Tint and color balance
Gamma (lighten dark faces)

CONTRAST

COLOR CORRECTION
Torn pictures restored.
Distracting objects removed.
Web page produced.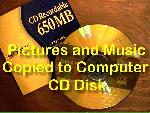 Lee Schaeffer - Producing Slide Shows for over 30 years!