The Schaeffers On the Road Again
This is a list of places we visited during our trip to Illinois during August 2000
See Panoramic view of Monmouth College
"Browsing around the Web, we recently came across an interesting page by Lee Schaeffer '65, a videographer in Pittsburgh, Pa. It's a rotating panoramic view taken last August from the southwest corner of Bobby Woll Memorial Field during a vacation to Illinois. It's especially interesting because it shows the field just prior to renovations that included installing a new running track and the construction of Boucher Plaza, just north of the library and science building."
- Jeff Rankin Director of College Communications Monmouth College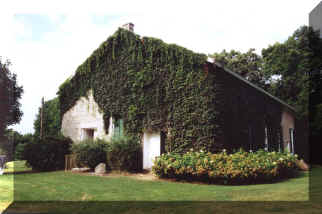 Beautiful South Henderson Church
Editorial: The Hidden Pleasures
The South Henderson Congregation was organized July 4, 1835, the first in the county.
This beautiful church building was built in 1855, and is on the National Register of Historic Places.
Two Revolutionary War and 29 Civil War veterans are buried in the adjacent cemetery,
as is Elizabeth A. Robbin, Daniel Boone's granddaughter.
One of the early ministers was Rev. Samuel W. Lorimer who is Judy Schaeffer's great grandfather. She is related to another minister, Rev. Ross one of the founders of Monmouth College as well as to David Wallace another founder of the college and Rev. William J. MacMichael the first president Monmouth College 1862 and Moderator of General Assembly of the United Presbyterian Church 1895 and Rev. Thomas Hanna MacMichael - President Monmouth College See her Genealogy Page
Illinois
Aurora
St. Charles
Batavia
Geneva
Chicago
Ohio
Indiana