Lee Schaeffer's
TV & Radio Production Resources for High School Teachers
Lee Schaeffer E-Mail:



Imaged address to prevent SPAMMERS from harvesting the address.
Please click on the E-mail link and add LEE to the address.
My Home Page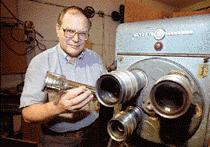 Last update July 2018
Many of the link on this page may be outdated but they might trigger some topics for a Google search.
---
Some links may be out of date!
---
PAPERS: Lets get more online! Documents in progress!
A Video Festival - Categories and Judging
Getting started in TV Production Lee Schaeffer - Woodland Hills H. S. (ret.)
Designing a TV Production Program
Television Teaching Tips - MS Word Document
Producing a High School Sporting Event A Document in progress!
The Care and Feeding of High School Sports Announcers
Announcing High School Football - One Announcer's Experience
Teaching Video Editing
---
On Line Programs - We want to answer your production or technical questions!
Pittsburgh Area Schools: - List your school's TV page here...
Plum High School - East Hills
Penn Hills High School TV - East Hills
Peters Township High School - Washington County
Upper St. Clair - South Hills
Seneca Valley High School TV North Hills of Pittsburgh
Fox Chapel TV - North Hills
Steel Valley High School - Mon Valley (High School page only)
Other Schools
Chatham High School, NJ - Samples of their productions
G.W. Carver High School - Birmingham, AL
CHICAGO VOCATIONAL CAREER ACADEMY - SCHOOL OF COMMUNICATIONS RADIO-TV MAJOR
Painsville Ohio - New production truck shown at 2002 TVT convention
WILD - TV/Mass Media Class - Benjamin Russell High School in Alexander City, AL.
Bellefonte Area High School - See their TV 101 course outline
Jefferson High School Radio and TV Center - Lafayette, Indiana
Electronic Media Production at Centennial High School- Atlanta, GA
East View High School - Apple Valley, Minnesota - See their morning news show.
Parsons Junior High School, Redding, CA - Lots of information including RealVideo.
Dearborn, MI - Great TV Program - Site has lots of pictures including Live Video
Shrewsbury High School, MA - Fantastic amount of programming!
Haslett Public Schools - MI Looks like a great program! "Station of the year"
Austin High School - Austin, Indiana
Farmington High School - Missouri - Television Production Curriculum
Eastern Monroe Career Center - Fairport, New York
The Academy for Television Production Ridgeview High School, Orange Park, FL
Hilltop High School - Chula Vista, CA
McFatter Technical Center - Technical School - Television Production - Broward County, FL
Rick Lakin Southwest High School, San Diego, CA

A Short History of Television Production Firsts at
Churchill Area / Woodland Hills High Schools
Numerous Churchill and Woodland Hills Television alumni are working in radio, television, theater and film industries:
Michael Hissrich - Emmy-winning producer of the West Wing,
Larry Berger - (Founder and Executive Director) manages day-to-day operations and serves as host of The Saturday Light Brigade
Adam Gusky - WHHS / WLFP Sportscaster and media producer
Brian Behler - Videographer WKYC-TV Cleveland
Bruce Graham - Engineer at NBC Universal Studios
Brian Mroziak - General Manager at WMBS Radio
I was there 1995-1997.. My best memories were both selling and airing the football and girls basketball playoff games that year, with both teams making the state finals.. I remember the two of us working the Football Semi Final Game together, when Bush decided not to do the game, that was my 1st crack at football play by play and a lot of fun.. If it wasn't for the shot you gave me, I probably wouldn't have the job I have today so I really appreciate that.. It was nice that we had good community support as well, especially when we needed sponsors to air the playoff games, I see you still have Pat Lanigan involved. He was one of our 1st sponsors, so I'm glad he has stayed with the broadcasts.. Keep in touch..Thanks for the kind words..
Rick Harris - Radio Historian
Matt Bush - Announcer for NPR Washington
Matt Shaffer - Lighting Designer
Tonny Renolds - Hollywood commercial producer
Joe Slick - Audio Specilaes - Does the sound for WHHS Musicals
Larry George - Tech department of Greensburg Salem School District
Lee Schaeffer III - WHHS football videographer and Web producer, WPCB-TV and Web Landings

---
Know Your TV Color Bars

White

Yellow


Cyan


Green


Magenta


Red


Blue


R + G +B
- Blue
- Red
Primary
- Green
Primary
Primary

---

---
Camcorder & ComputerVideo - The Complete Magazine Of Video Photography And Desktop Video
Videomaker Magazine Lots of great articles but you have to search for them. Register for a free issue!

Frequently Asked Questions About getting started in video production.
Videomaker's Glossary of Terms
Sound Effects Free downloads
Audio for Video

---

---

---
Newshuter's Views - Blog of an ENG camera man in Cleveland (Former student of mine.)
Bruce Graham - Industry leader from Pittsburgh who started at Churchill Television
See CIS Hollywood for examples of state of the art film effects!
Charles Poynton - Color expert
Chuck Pharis - Senior Video Engineer ABC TV - Great Web Site
Steve Bradford - Film / Video
Jackie's TV Production Home Page - Video producer -University of Central Florida,

---
Pittsburgh Area Companies and Vendors
Products
Anton / Bauer - Camera Batteries - Lights - Accersories - New EgripZ handheld camera support
VIDEONICS Low cost production equipment
www.videonics.com/educators/
Videonics has posted a newsletter for educators. Here you'll find information on the Videonics, "Thought & Dreams" contest, links to educational resources and curriculum suggestions for video instructors.
MX-1 Mixer - Used by WHHS-TV for football and band festival remotes.
Works best if you use separate camera and preview/line monitors
(You must remove terminating the resistors on camera monitors so they are not "double terminated"
by the MX-1.)
Replacement Remote Controls - Lost or broken your remote for TV or VCR?
Replacement Parts for VCRs - Replace that slipping idler gear - Resources
National Suppliers

---

---

---
PITTSBURGH - TRI STATE AREA

---

---
HISTORY OF RADIO
Hear a re-creation of the "First Broadcast" on RealAudio and
KDKA RealAudio from "The Century" - ABC News
The story of Frank Conrad and the birth of KDKA
National Museum of Broadcasting
Pittsburgh
The Conrad Project
The Beginnings -Telegraphy & Telephony - Updated March 2018

The Pioneers - Wireless
Giving Radio its Voice
Historical Resources
Antique Radio
Amature Radio

---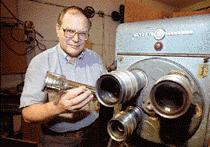 Lee Schaeffer-Holding Image Orthacon Tube
1948 WDTV Channel 3 DuMont TV Camera (with GE logo)
Picture from the TRIBUNE article
History of Television in Pittsburgh (missing images)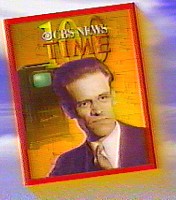 Philo Farnsworth
August 19, 1906 - March 11, 1971
He had the inspiration which led to television while sitting on a hillside in Idaho. The neat rows in a nearby farm gave him the idea of creating picture on a cathode ray tube out of rows of light and dark dots. He was 14 at the time, the next year he presented the concept at a high-school science project, and demonstrated the first working model of a television set when he was 21.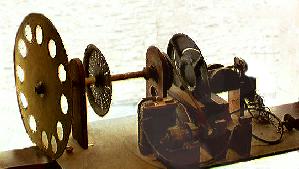 Baird mechanical camera found in the window of the "Logie Baird Bar" in Edinburgh, Scotland during my vacation to the UK. Baird lived in the same building as Alexander Graham Bell.
Mechanical TV & John Logie Baird
Vladimir Kosma Zworykin -- 1889-1982
Allen B. Dumont and Dumont Laboratories -- 1901-1965
DuMont Television Network - Clarke Ingram Program Director of WPXY-FM
WDTV - Channel 2 DuMont TV Pittsburgh
Faded Signals -WDTV
Thomas Goldsmith - IEEE Interview about Allen Dumont
Dumont 124-A Camera Pictures and Allen Dumont - Page by Chuck Pharis
Allen B. Dumont developed the Kinescope tube and marketed the first modern receiver.
Nov. 27, 1948. WDTV Dumont TV Network (Now KDKA-TV ch. 2) Pittsburgh sends out its first signal, ch. 3 (although Jan. 11,1949, is considered the programing start date)
Jan. 11, 1949. A two-hour special on all networks celebrates the linking of eastern and midwestern networks via coaxial cable; WDTV ch.3
HISTORICAL LINKS
History and Evolution of the Video Camera - Link suggested by Matt & Adam from the After School Programs in El Paso County, Colorado,
Eyes Of A Generation
Television History - The First 75 Years
Television & Radio & Telegraph & Telephone
- History of Media Project Must visit!
40th Anniversary Photos - rom "Forty Years" - WTAE
History of Film & Television - High-Tech Productions
A History of Television
The Age of Television - A research paper
Sparks of Genius - List of biographies of all the inventors of Radio & TV
Essays - Every thing you need for a research paper from the CyberSound Project
The Art, History and Science of Radio and Television
WQED - First Public Station in Pittsburgh
Bill Burns "...and the news"
Dr. Frank G. Back of New York City patented the Zoomar lens. The device was first used by NBC television in April of 1947. Considered by Jonny Carson to be the most important change in television production during his career. Pictures from WMTJ
The first VCR: Cartrivision Under Development LabGuy's World
(Churchill High School used Cartivision electronics to convert our early reel-reel video tape recorders to color.)
The Rise and Fall of BetaMax
I have another theory why Beta died.
At the beginning of the format wars, many school we considering which machine to buy for classroom use. They always purchased on price alone and VHS became the default educational format. When students started to encourage their parents to buy a VCR they told their parents that their school had a new VHS machine. The parents reaction was, "If VHS is good enough for the schools, It's good enough for us.
The History of Video Tape Recorders before Betamax and VHS - LabGuy's World
Recording Technology History
December 07, 1963 - Instant replay first used for the Army-Navy game, broadcast on CBS-TV.
See my "Letter to the Editor": Army-Navy Game - Published in the January 2000 issue of Smithsonian
100 years of advertising
Louis W. Parker - Invented the intercarrier sound system for TV - Extensive
Kenjiro Takayanagi - Did he invent TV in Japan?
Chuck Pharis - Great TV pictures and links
Iinstuctor's Class Notes - - Chronology, Bibliography and Time Line - Brad Fortner
Television Technology - The Definitive Guide to TV History - Brad Fortner
The TV Test Card Gallery - The early days of television
Demo Test Pattern Images
BROADCASTING 101
...for the new people in the business who haven't got a clue as to what has gone on before!
History of Color Television - Extensive pages of information
Mark's Index to the History of TV Gateway to TV History site
Mark's History of TV Technology: Pioneers - Information on a lot of unknown people
Jeff Miller's Collection A large collection of historical links including
A U. S. Television Chronology, 1875-1970
TV From Iconoscope to HDTV and the history of Radio, Pagers, Cell Phones
Dick Reiman's Historical Articles AC to Computers
An Historical Perspective - Mechanical to HTDV
HDTV: Resource page
HDTV: An Historical Perspective
HDTV explained
Technology and Society - Essays on Radio, Television and other media
Old Time Radio Links - Extensive
Chuck Pharis A collector and restorer of old TV equipment -- lots of pictures
History of TV- 50 Best Commercials from Advertising Age Organized by decades
Quadruplex Park - Museum of Broadcast Technology
3D TV without special glasses (I saw a demonstration - works with one eye closed! L.S.)
Yesterday USA - Listen to "Old Time Radio Shows" via RealAudio
TV Time Line - Major milestones in TV broadcasting

---
Real Museums
Virtual Museums

---

---
WEB SEARCH - Search for key words if you can't find it on this page.
Web page maintained by Lee Schaeffer in Pittsburgh, PA