2006 Camp Michaux Walk
November 18, 2006
Lee Schaeffer
Camp Michaux Home Page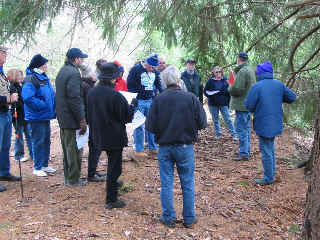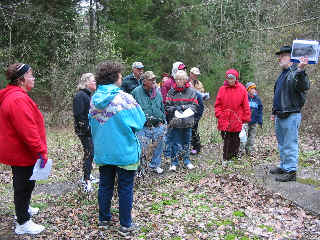 John's Morning Group Dave's Afternoon Group
After a weeks of rain, today's weather forecast looked favorable enough to risk the 350 mile round trip for another Camp Michaux Walk sponsored by the Cumberland County Historical Society. This year in addition to Dave Smith we had the pleasure of having John Paul Bland as a leader.

John is the author of the new book "Secret War at Home." The book was officially introduced this past Wednesday to a large crowd at the CCHS in Carisle. I've only had a short time to skim the contents but it looks like a fascinating read. The footnotes and bibliography indicate that he has done a tremendous amount of research. While devoted primarily to the POW era, the book will be of interest to the church campers because it shows how the camp evolved from the CCC and POW occupations into the church camp.

I was pleasantly surprised to find the book contained seven slides from 1959 to 1961 and two paintings that I copied at the UCC Hartman Center camp. The pictures lost something in the conversion to black and white half-tones. However, you can see them in color on the my Web pages or in high resolution on my CD of camp photographs.
If you order a copy of the book, they can be found on:

13BR - Old Barn 1961
48L - Painting Taken At Hartman Center
75T - Camp Sign 1961
75B - Cars as campers left camp in 1961
76BL - Swimming pool 1961
77T - Rec Hall 1961
77C - Volleyball Court 59/60
76BL - Vesper Hill 59/60
80L - Painting Hartman Center
The Walks were divided into two groups with Dave and John as the leaders. I arrived just in time for the 10 AM walk and joined Dave to get his perspective primarily on the POW era. After a quick lunch, I joined Dave for his 1 PM walk. I would guess there were over 50 people in attendance for the two walks.

Every year, Dave has more material and a deeper understanding of the history. One myth dispelled this year was that near the end of the war the Japanese prisoners were held in the small compound between Michaux Road and the Old Barn. The army constructed a fence through the middle of the camp from approximately the Steps To Nowhere down to the Staff Mess Hall. Several barracks were constructed on the western side of the prisoner's compound. The two barracks by the Pavilion were retained by the church camp. The buildings in the are of the New Swimming Pool were probably in poor shape and torn down before the church camp opened.


One recent discovery was the concrete block and an iron post hole that secured the gate to the prisoners compound. It can bee seen to the left of the CCC Fountain,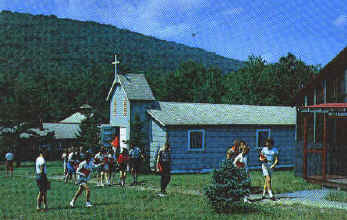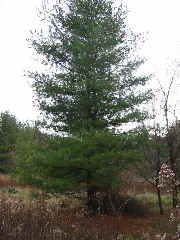 Pine trees in front of the chapel in 1957? post card. The pine tree today.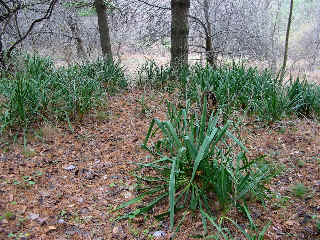 Yucca Plants in POW Painting and in fall of 2006
It is interesting to note that two of the most obvious remains are the sewage treatment plant and the ramp to the incinerator just south of the Mess Hall. The origins of the Star by the CCC Fountain is still a mystery but because it uses the same blue slag as the Fountain leads one to believe that it was from the CCC days.

We have been led to believe that the official closure of the church camp was in 1972 when the lease was terminated. However there were two former campers on the walk who were positive that they were at UCC camps in 1974 and 1975. As usual each visit to the camp raises more questions to be researched.

Every time I have revisited visited the camp I have had a "quest" to fulfill. One the first visit, the goal was just to locate the camp! The last visit's goal was to explore the Lower Camp Road and locate the remains of the buildings and the area where the Pioneer Camp tents were erected. By this visit my list had narrowed to a few final items: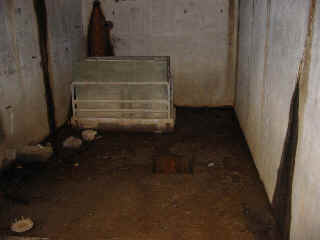 One was crawling under the pool deck to inspect the remains of the "filter and pump room".
I was inspired to do this by pictures in the photo album at www.ThePropers.coms.
The drainpipe from the pump room must still be functioning or it would be filled with water!

Lumber under the Loading Dock

Another was to explore under the Mess Hall loading dock. On the side away from the Main Camp Road and you can see a cache of the hall's building materials.

I also finally found the Michaux Nostalgia GeoCash created by 'Possum'. My Garmin GPS had me looking under the wrong rock on previous visits!

After the afternoon walk concluded, I went on my final longstanding quest to locate the remains of Vesper Hill. The path the campers took between the Old Barn and the 'Lone Pine' is heavily overgrown but this was a perfect fall day to search for a better route.


Porch of the Gardner Farm House

Past the parking area on Bunker Hill Road is the intersection with the Appalachian Trail. Just past the "blaze" mark for the trail, there is a path up the hill to the porch foundations of the Gardner Farm House. Walk around the foundation, past a large pine tree and climb a little to the right..


Vesper Hill 1960 Vesper Hill in 2006 showing The Old Barn

A forest of tall trees stood above Vesper Hill. But today, it is difficult to tell the old growth trees from the new ones that have reclaimed the land. When you look to the south west, you can just make out the Old Barn. Behind the biggest tree in the picture above.


About 50 yards up the hill are log bench posts scattered in the underbrush...


...and finally the remains of one lone bench the bulldozer spared.

At the end of my quest, the sun was setting over "Big Hill" in the distance, my camera's memory card was full and the batteries were dead. A good time to go home…