Beulah's Historic Chapel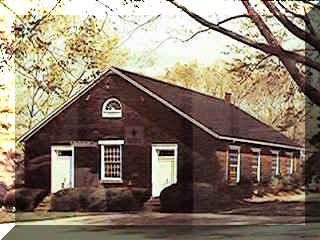 Building erected in 1837
Congregation organized in 1784

The Pittsburgh History and Landmarks Foundation
"Late Georgian classical in design, this pioneer building is extremely simple. It captures the essence, purity and naivete of the simple country people who built it The straight simplicity of the structure has a timeless quality. It is of historic, architectural and religious significance to western Pennsylvania."

Pittsburgh: An Urban Portrait by Franklin Token
Associate professor of Fine Arts at the University of Pittsburgh
Here the British troops made their last encampment before marching on Fort Duquesne. in November of 1758. A contingent that remained here to tend the cattle supply for Fort Pitt built a church and laid out a graveyard in the years following. The graveyard was already in use by 1773, and thirty-four veterans of the revolutionary war were later buried there. The Flemish-bond brick walls, the gentle slope of the roof, and the two-door arrangement of the facade show that the builders of the present church thought in terms of the old Federal style, although the Greek Revival makes its appearance in the slender window frames. It is one of the perfect works of architecture in the Pittsburgh region-sensitively cradled in the earth, superbly proportioned, and vigilantly preserved. Most of the glass panes are original, and the only concession to modern taste are the cushions on the hard wooden pews.

The oldest building in Allegheny County in continuous use as a church is Beulah Presbyterian Chapel. This historic landmark sits approximately ten miles east of downtown Pittsburgh. Known from early days as "the church on the hill," it provided the name for the borough-Churchill-in which it is located.

Built in the heart of a rural area in 1837, it is now viewed daily by thousands of motorists passing through the busy intersection of Old William Penn Highway (Route 22) and Beulah Road (Route 130), as well as by travelers on the Parkway East (Route 376).

While the congregation was not officially recognized by its Presbytery (Redstone) until 1784, preaching was first recorded in the area in 1758.

Chapter 1 - Early History
Beulah Presbyterian Church, 1784-1984 : a Christian Heritage
by Lenore W. Bayus - Order Book

The church was originally called Bullock Pens, because it developed in the area where General John Forbes penned his beef cattle during the French and Indian War. The name was later changed to Pitt Township. In 1804 its first full-time pastor, the Rev. James Graham, named it Beulah, and such it has remained to this day.

The Chapel was the third building erected by the Beulah congregation, replacing one made of hewn logs in the form of a cross, which replaced an earlier one of logs, similar in style to a log cabin. The very earliest attempt to provide protection from the elements was a board tent, under which the visiting preacher stood, while the congregation listened from leveled-off logs placed in rows on the nearby hillside.

The work of building the Chapel was done primarily by Beulah members, under the supervision of William McCrea, Jr., a trustee and son of one of the original donors of the property.

Bricks for the building were made from clay excavated on the property. The trusses were of fine hewn logs, set in place by mortise and wooden pegs. The floor beams were also of hewn oak, twelve by fourteen inches. The total cost was approximately $3000.

McCrea's deed, designated for a church and graveyard, was signed the first day of June Anno Domini 1809. The earliest known burial is dated 1793.
Beginning at a Hickory in his orchard, Williams and the Revd. James Graham's line then North thirty-one perches to an oak grub, thence South eighty-five degrees east seventeen perches to a Chesnut thence South fourteen degrees west to a locust planted thirty-one perches, thence West seven perches and two tenths to the place of beginning. Containing two acres and fifty-five perches.

To have and to hold the said described tract or parcel of land with the appurtenances unto the said James Homer, his heirs and assigns forever in Trust to and for the use of the said Congregation of Beulah forever.

Rev. James Graham's deed specified three acres and 56 perches.
(A perch equals 30¼ square yards.) Both deeds were signed in 1809, but were not recorded until 18 September 1813.
Now this indenture witnesseth that the said James Graham for the purpose of carrying said agreement into execution as also for and in consideration of the sum of One Dollar to him in hand paid by the said James Homer at and before the ensealing and delivery hereof, the receipt whereof is hereby acknowledged, hath given, granted, bargained and sold and by these presents doth give, grant, bargain and sell to the said James Homer all the said piece or parcel of land bounded and described as follows to wit:

Beginning at a Hickory on William McCrea's line, thence west thirty-one perches to a red Oak, thence north thirty-seven degrees east to an Oak Grub forty-one perches, thence South eighty-five degrees east three perches and six tenths to an Oak Grub, thence South thirty-one perches to the place of beginning. Containing three acres and fifty-six perches.

Beulah Church, with a congregation of 177 members in 1828, was the second largest Presbyterian church in western Pennsylvania. But traveling even a short distance at that time caused great inconvenience for families, especially in inclement weather. Beulah's numbers were depleted six times in the next 81 years, as it mothered incipient congregations just a few miles from its own parish:

The East Liberty Church, in turn, was responsible for the establishment of five additional Presbyterian churches: Point Breeze, Tabernacle, Valley View, Sixth and Shadyside.

Beulah's influence has been spread across this country and throughout the world by sons and daughters of western Pennsylvania pioneers. Many can trace their ancestry to its historic cemetery, where there are burials of soldiers from every war in which the United States was engaged.

Construction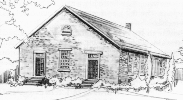 Detail of bricks and window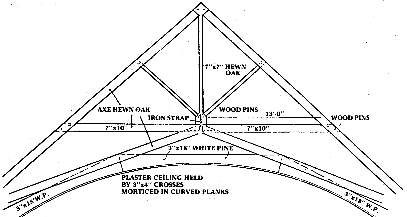 Typical Truss Construction
SIX TRUSSES TEN FT. APART
Structural Evaluation, 1973 J. Fred Triggs and Associates
'The church building was initially constructed with an earth crawl space under the floor of the sanctuary, but in the nineteen-twenties the foundation walls were underpinned by concrete construction extending the rubble stone original walls, excavation was performed, and a basement constructed with a stair down from the sanctuary and a door with several steps up to the west yard. Examination of the existing condition of walls, ceiling, floor and general structure reveals that all of this work was performed in a careful and adequate manner, resulting in no distress to any portion of the building's structure.

"From time to time during the intervening years since the construction of the basement certain reinforcement of the original wood floor system of the sanctuary has been added particularly under the apse, but this work has also been done in an adequate manner, and although it may present an unfinished appearance, it is sound structurally and at this time requires no changes.

"Even the wood pins connecting the truss members are in good condition, indicating no discernable timber deterioration of the main trusses."
Historical Designations

Rev. William Sutherland and Historic Places plaque -1975 Other Beulah Historical Pages
Walking Tour of the historic Beulah Cemetery - Panoramic view
Walking Tour with Pictures of Markers - Takes awhile to load
Rev. Samuel Barr (b. pre 1765)
Revolutionary War Veterans Buried in Cemetery
The Sampson Family and Beulah in 1886

Other Presbyterian Links
John Knox, Founder of Presbyterianism
First Presbyterian Church - Pittsburgh
Pennsylvania Presbyterianism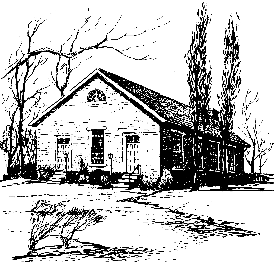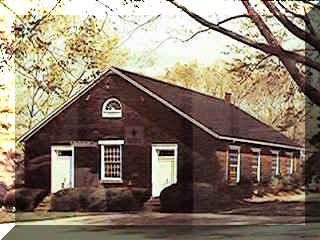 Christmas Choral Service in the Chapel

Beulah Presbyterian Church